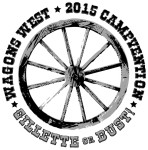 by Angel Ireson, Publicity Chairman
SAVE THE DATES! July 6th thru the 10th of 2015. No, this is not a wedding but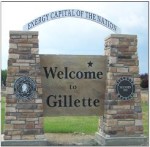 "2015 CAMPVENTION!" This is your chance to see the REAL WEST.
Gillette is a fun western town with an interesting history.   In the late 1800s "Donkey Town," aka Gillette, was homesteaded by cattle ranchers. In August of 1891, the Burlington and Missouri Railroad company pulled the first train into Gillette. Edward Gillette, a surveyor for Burlington and Missouri Railroad, suggested building the railroad route through the community of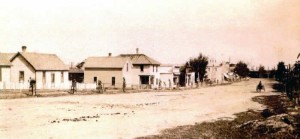 "Donkey Town"—a suggestion that saved the railroad thousands of dollars, and Edward's reward was to have the town named after him. This also opened new markets to ranches in the rich Powder River Basin. Gillette became a town because of the railroad, even before Wyoming became a state.
Small coal mines sprung up around Gillette in 1909. The first major coal mine built was Wyodak, east of Gillette. During the 1970s, more companies opened larger surface mines in Campbell County, and currently there are 14 mines in the county. Wyoming coal is shipped to 36 states where 99.99 percent of it is used to generate electricity. Today, an average of 85 coal trains daily snake their way along the railroad tracks. The main reason Powder River Basin coal is in high demand is because it is low in sulfur, which equates to very low emissions.
In the 1940s, oil exploration began in the Gillette area, and the first commercial oil field discovery was 1948. Then, in 1956, the first oil boom in Gillette began with other oil and gas discoveries in the 1960s and 1970s
There are lots of things to do and see on the way to the Campvention and also afterward but first some information about where you will be staying. The picture below is an overview of the entire complex where you will be enjoying all the Campvention fun. Good walking shoes or a cart of some sort might be a good idea.
CAM-PLEX MULTI-EVENTS CENTER – This is where it all happens for the Campvention.

This complex sits on 1,100 acres and regularly hosts events such as Rodeos, RV and Motorcycle Rallies, but also Art Exhibits, Ballet and Dance Productions, School Programs, Banquets, Equestrian Events, Trade Shows and much, much more. Because of this complex, residents rarely mutter the phrase, "There's nothing to do!" And, if you're wild about wildlife, nearly 77,000 pronghorn call this region home, along with a multitude of mule deer, turkey, sage grouse and more wild animals.
There are a host of things to see and do in the area; i.e. National Parks, National Monuments, Historic sites – Little Big Horn Battle Field, Devils Tower, Mount Rushmore, Yellowstone, Ayres Natural Bridge to name just a few. In future articles we will be going into greater detail on some of these and giving you web sites to visit and a list of some of the larger attractions. Also, there are other attractions that require reservations well in advance and you will be getting information on those as well.
To sign up, complete the 2015 registration form.
Click here for the 2015 Registration Packet.
Click here for the revisions for the 2015 Registration Packet.
Click here for Camplex Map.